CODY FOLTZ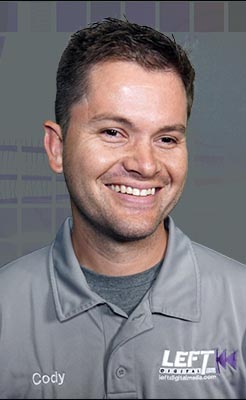 Owner, Editor, Colorist
---
Cody Foltz is the owner of Left Digital Media; a full-service production company providing a complete end-to-end solution for digital feature film, short form, commercial and music video production.
His journey began just outside of Los Angeles, California where he obtained an Associates in Theatre Arts Degree before discovering his passion for film production. Cody is a graduate of Full Sail University with a Bachelors of Science in Film (2008) and an MBA in Entertainment Business (2009). His expertise and knowledge of digital media, specifically in post-production, have allowed him to provide a wide variety of skill sets to several projects and productions over the years.
Since starting Left Digital Media in 2010, Cody has edited over half a dozen feature films as well as provided color grading services for several feature-length and short form projects. Left Digital Media is based in Fayetteville, Georgia at Pinewood Atlanta Studios Production Centre.